My Tour
CB
Friday Heathrow (25 m) - Abu Dhabi (27 m) - Kathmandu (1,350 m)
Football in Nepal? Sounds good to me and, apparently, also to the crowd who had gathered at Heathrow on a grey, chilly late October afternoon. The Houghs and Hannings had gone on ahead to put the beers in the fridge so we were off ... er once the kit finally arrived.
Saturday Katmhandu (1,350 m)
By mid afternoon after a surprisingly quick whiz through passport control and bag pick-up, we were met at Tribhuvan International Airport by our enthusiastic, smiling tour guide Ajay Pant. Ushered into the bustling world outside we encountered a policeman who blew his whistle with such enthusiasm and for no apparent reason that we presumed he would be refereeing our match tomorrow.
A 40 minute, dusty, bumpy drive along the most spectacularly pot-holed road brought us to the Park Village Hotel, a sprawling park filled with accommodation of many styles and types. The bar was easily the most popular type not only because of the large bottles of Tuborg Gold but, more importantly for some of the team, it was furnished with a large TV screen showing Premiership football live from the UK. An early evening visit to Kathmandu centre was nearly extended indefinitely as none of the taxi drivers had any more idea than us as to where the Park Village Hotel was.
Sunday Khatmandu (still 1,350 m)
After the customary chilli omlette with optional ginger, mushroom, cheese, onion, tomato etc, the footballers eventually departed for the Trungram International Academy Football ground.
It was a shame to find that some of our massive team of supporters had elected to skip watching the match and visit some temple or other but there was still a good turn out and the match was covered by Goal Nepal!
After the match we marched in single file around the outskirts of Kathmandu until we reached a lovely little family owned restaurant where we were treated to a delicious curry and beers. The winning team buys the lunch always used to have the foregone conclusion that we would dip into our pockets until now.
This was a truly tasty victory and a sudden torrent of optimism swept through the team, this was going to be some tour!
Monday Kathmandu - Tumlingtar (250 m) - Khandbari (1,050 m) - Camp site (1,080 m)
Having bounced down the road to the airport we bounced down the runway in our (1998) Buddah Air Beechcraft 1900D 19 seat aircraft. Any excesses of the previous night's hotel barbecue were soon shaken off and we could concentrate on the magnificent views over the Hymalayas 30 miles to the North of our flight path. Sadly we were informed by our stewardess that Everest would be completely obscurred by cloud.
45 minutes later and we slipped between the mountains into a deep valley where we touched down at Tumlingtar. The heat immediately induced a lethargy that evaporated any sense of guilt as we watched little grandpa sherpas load themselves up with our massive bags whist we had to burden the traditional welcome of thin silk scarves around our necks.
Once we had been jammed into Landrovers we bounced for an hour or so of dusty, bone-jarring travel to Dorchi Sherpa's village (Gumba?) just above Khadbari (twinned with Bourneville). Once the dust had settled we realised what an incredibly lush fertile place this was, covered in vegetation, fruit and crops.
We found our tents all neatly laid out for us on two levels around a temple at the top of the hill and after un packing and using the en-suite facilities we walked back up to the dining room. After obtaining a few beers from the barmaids and making in-roads into the duty free gin the meal was presented and was completely delicious.
It was a fitting end to the day to bounce down to our tents serenaded by gentle snoring then at last snuggling into the soft down sleeping bags for at least 5 minutes sleep.
Tuesday Khandbari
During the 6th minute of sleep at 6:00 am "good morning - cuppa tea?"


View from our tent at dawn
After a really tasty breakfast of omelette, cooked tomato and potato with chilli sauce, we set off for Khadbari town a short trek of only about a mile away to the South.
The spectacular view we saw looking back to Chamlang (7,321 m) and Makalu (8,485 m/27,837 ft) was an exciting taste of what we could expect to see on our trek the next day.
Actually it was also a taste of how the pitch surface would be at Khadbari.

We were all stunned by the venue for our game, a large area cut into the hillside to make an amazing infinity football pitch with a beautiful view of the mountain vista stretched out behind it. This more than made up for the state of the pitch itself with a 15 ft drop into a hole through which the side line passed.
A large crowd had gathered to witness the game and it erupted into tumultuous cheering everytime someone stumbled or fell over. The deserved man of the match was surely their diminutive goal keeper "Tumlingtar" who kept the score line respectible.
After visiting the Gurka base in Khadbari we trekked back to camp where yet another really good meal was produced and the opposition appeared to join us before giving a demonstration of local singing and dancing with which some of us seamlessly joined in.
Steve gave a splendid rendition of "You'll never walk alone" which saw off the oppo team. It was either that or they also decided we needed a good showering. A "spring" was located down the hill and the chilly water was gratefully spread over the dusty, sweaty bodies of the RCdeB.
The younger members if our party then proceeded to expertly entertain all the kids from the village for the rest of the afternoon.
Wednesday Camp (1,080 m) - Chichila (1,850 m)
Just as the smell from the little blue tent began to become really noticeable we set off 1st thing for Chichila up and over the hill far, far away.

It was just a walk really and only about 8 miles and an 800 m climb but seemed rather warm and hard work. Finally we arrived in Chichila and were met with a fine banner and applause from the villagers who had turned out to welcome us with garlands of flowers, scarves and, much to my delight and appreciation, cool beers! Horray!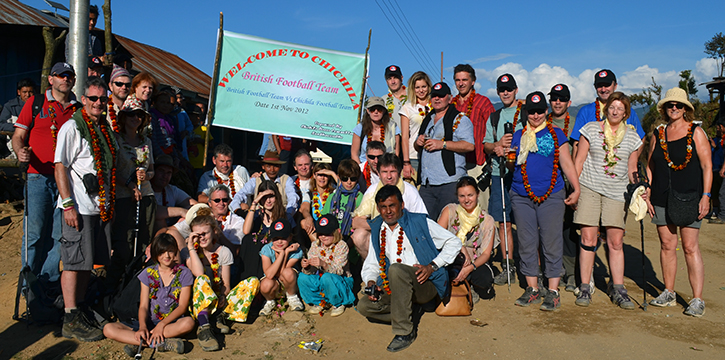 The view from the camp site and football pitch looked extraordinarily promising even though the high mountains were obscured by cloud. Roll on the dawn and rather a lot of gin later...
Thursday Chichila (1,850 m) - match - camp 1 (1,080 m)
Pre-dawn was the only time to be up to see the most spectacular sight of the whole tour .... Will Ollard having to be rescued from the loo tent after the seat collapsed under him!
An hour or so later we were armed with a cuppa tea and cameras to watch the sun cast it's first light onto Makalu peak (8,485 m) then over the sprawling range of Chamlang or Kamalu as the locals called it. Just wow!

Sunrise NW from Chichila town
Sunrise SE over Chichila town
After the most spectacular venue for a football game the young once again really came into their own and descended on the local school to present the books and pens (only black and red allowed). That was the second spectacular view of the day.
Off we trekked to the showers 2 hours away over the pass and down in the pool of a mountain stream where we also stopped for our picnic lunch. Clean, refreshed and well fed the trot down to camp seemed a breeze compared with the trek up.
Back at camp we were introduced to and said farewell to all the cooks, tent pitchers, helpers and sherpas who had made our stay so amazing then the most thrilling thing of all - the last night under canvass.
Friday camp (1,080 m) - Tumlingtar (250 m) - Kathmandu (1,350 m)
Rather than bouncing down in the back of a dusty Landcruiser most of us decided to trek down to Tumlingtar as it was only a couple of hours away provided we didn't get lost.
We all made it and both flights lifted off the airstrip to reveal to us an amazing clear view of the Himalayas laid out along the right. On arrival in Kathmandu, some people whose feet still worked went straight off sightseeing but I needed to check into the Khatmandu Guest House with flushing loos, baths, showers and comfy beds. We struggled to wander around the centre of town in the powercut before setting off to our last supper in a somewhat lack lustre restaurant with rats running around but the beers were good and the company great.
Saturday Kathmandu (1,350 m) - Abu Dhabi - London
Last morning drifted around Kathmandu trying to get enthusiasm for shopping. A beautiful vegetable curry lunch on the roof terrace at the Third Eye Restaurant was a really excellent way to finish the tour.
email: webmaster@RCdeB.com