PAKISTAN
Sat 3rd to Sun 10th October 2004
Johnny, Simon P, S Foster, Pete K and Claudio (36) discuss tactics, lineup, prospective scorelines.

On 3rd October around 4 pm Terminal 4 Heathrow saw the gathering together of 14 men who, despite all appearances to the contrary, were young, fit and sleek. Prepared to do battle on the football field anywhere in the world, on this occasion the selection was the rugged unknown of Pakistan, a country barely 10 years older than most of the team.

It was a fantastic opportunity to explore, albeit briefly, an amazing and spectacular country. With a comprehensive itinerary arranged we were all set for the best tour ever! It nearly all went according to plan!

THANKS TO

With his opportune redundancy, Simon was able to divert all his attention to organizing a perfect tour. Clear cut vote for Man of the Tour award.

Back Row: Piers Lea, Jonathan Lang, Patrick Vigne, Claudio Salinardi, Graham Richards, Peter Knight

Front Row: Edward Watson, James Hanning, Simon Foster, Peter West, Andrew Rawlins, Chris Bain, Simon Parry, Chris Lindsay, Mark Lyall Grant

Simon enlisted the help of his friend, His Excellency Mark Lyall Grant CMG OE RHP the British High Commissioner in Pakistan who together with his wife, Sheila did a fantastic job coordinating and arranging everything for us in Pakistan. We are all deeply indebted to them for all their work and involvement both on the right wing and in the bazaars - how else would we know which Pashminas were nylon and which the genuine article. Unanimously voted honorary Couple of the Tour.

In addition to using their facilities at the High Commission, the Lyall Grants also activated their network to provide us with an experienced football playing guide; Alberto Bonanni from the Italian Embassy who accompanied us on our trip, also the driver Saif-ur-Rehman who ended up having to drive us 18 hours each ways over the Lowari Pass

- definitely turned out to be a safe pair of hands.
Thanks to Chelsea FC for the donation of footballs and lapel pins to give away on our trip. Probably the last place in the world where people had never heard of Chelsea Football Club - well they have now.
Also to Maqsood ul Mulk at Hindukush Trails for organising and sponsoring the local teams as well as captaining the Ayun side. He says the afternoon scamper up the hill at the end actually takes two weeks! At 7700m Tirich Mir is pretty big.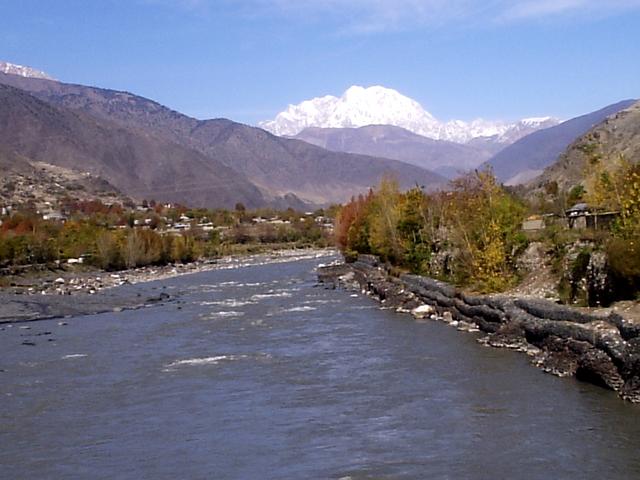 Highest mountain most of us have seen.
Many thanks to PIA for not supplying a Fokker Friendship thus ensuring two long, painful but spectacular adventures in the minibus. At least they got us back to the UK. Unlike the sheep and goats in this plane still at the end of the runway in Chitral:
At least they found this plane - there were rumours that one took off a couple of years ago and hasn't been seen since.
ALBERTO BONANNI
It is with great regret that we report the tragic loss of Alberto in his flat in Magella Towers in Islamabad during the earthquake of 8th October 2005.
In his last email to Simon, dated 4th October, he lamented the fact that it was difficult to get people to come to Pakistan to play fotball in the current climate but he wished us luck in our next "venue" suggesting he might even join us there. Sadly he will not be playing with us again. pics